When rioters stormed the U.S. Capitol on Jan. 6, the attack was well-documented. Many of the insurrectionists livestreamed it or posted photos on social media. The Capitol itself was full of journalists, who reported what happened. And numerous charging documents in the weeks since the insurrection have exposed even more.

Still, there were several key revelations during the initial days of former President Donald Trump's second impeachment trial. The House impeachment managers, led by Rep. Jamie Raskin (D-Md.), introduced evidence previously unseen by the public, but the most damning detail may have been inadvertently revealed by one of Trump's closest allies in the Senate.

Here's what we've learned so far:

Rioters Came Within 100 Feet Of Pence

Impeachment manager Del. Stacey Plaskett (D-Virgin Islands) used a model of the Capitol and security camera video previously unseen by the public to show just how close the insurrectionists came to then-Vice President Mike Pence.

"They were within 100 feet of where the vice president was sheltering with his family," Plaskett told senators. "And they were just a feet [sic] away from one of the doors to [the Senate] chamber, where many of you remained at that time."

The video showed U.S. Capitol Police Officer Eugene Goodman leading a group of rioters away from an entrance to the Senate chamber around 2:15 p.m. ET as Pence and his family sought shelter in a room nearby. Pence wasn't evacuated to a secure location until 2:26 p.m., Plaskett said.

In the impeachment managers' model below, the orange dot represents Pence, the blue represents Goodman, and the red represents the rioters.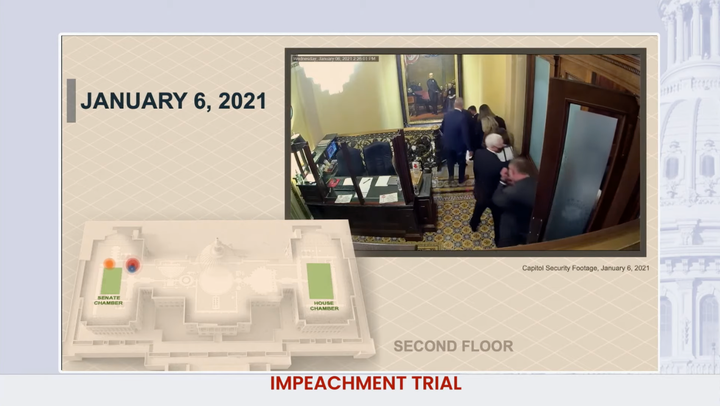 HOUSE DEMOCRATS House impeachment managers used a model and U.S. Capitol security video to show how close rioters came to then-Vice President Mike Pence during the Jan. 6 attack. Trump Knew Pence Was In Danger When He Attacked His VP

Read more: http://hispanicamericans.com/top-news/180764-the-most-important-revelations-so-far-from-trump-s-second-impeachment-trial